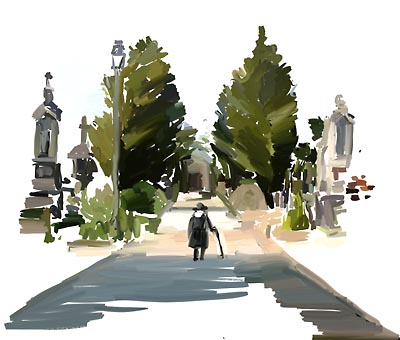 This art­icle is part two of an ongo­ing fea­ture on the digital media art of Bel­gian stu­dio Tale of Tales, run by Aur­iea Har­vey and Michaël Samyn. The dis­cus­sion of these works, apart from show­cas­ing their intrinsic mer­its, will serve as a spring­board for brief thoughts on the rela­tion­ship between digital media, games, art, and nar­rat­ive.
While devel­op­ment and play on The End­less Forest [read my art­icle on that work here], the first pub­lic release by Tales of Tales was still going strong, Aur­iea and Michaël had been work­ing on new con­cepts. One of them, which bor­rowed ele­ments from their unfin­ished pro­ject 8, would later become The Path, which was released in 2009, and which will be the sub­ject of our next and most exten­ded fea­ture on this Flem­ish design stu­dio. The other was a shorter, more mod­est pro­ject, and quicker to develop for a final release as well. It was the digital vign­ette called The Grave­yard, and the first of the Tale of Tales titles to be dis­trib­uted semi-com­mer­cially online, bey­ond the con­fines of their own web­site.
The Grave­yard is a simple pro­gram that has a lim­ited inter­activ­ity. As a 'player', we con­trol an eld­erly woman who is vis­it­ing a grave­yard, pre­sum­ably to check on the graves of people she'd known, and also as a bit of res­pite from the world out­side the con­fines of the grave­yard, which has become increas­ingly fast-paced over the course of this woman's life. As we hit the con­trols, the woman stumbles for­ward slowly, unsure of her foot­ing it seems, lean­ing on her cane. We can send her into side paths, but the fixed cam­era view­point pro­hib­its any in-depth explor­a­tion of these areas. Instead, we are forced by the pro­gram to go deeper into the grave­yard, slowly leav­ing the sounds of the world behind as these fade away. The excel­lent sound dir­ec­tion in the pro­gram makes this trans­ition gradu­ate but very clear. Once we reach the chapel and the bench, the sounds of traffic and dogs bark­ing are replaced by rel­at­ively silence, and the sooth­ing twit­ter of birds.
Here, in the cent­ral area, the core con­tent of The Grave­yard is presen­ted. We let the old woman sit down on the bench, and we dive into her memor­ies, to the tune of a song in Flem­ish by Gerry de Mol, which couples nar­rat­ive poetic lyr­ics on vari­ous deaths and the clean­ing of grave­stones to an idio­syn­cratic folky instru­ment­a­tion. We listen to the song play out, with Eng­lish sub­titles for those who hap­pen not to be born in the Low Coun­tries, and that's it, the dream ends. We are allowed to walk the lady back towards the out­side world. That is, unless we're run­ning the paid ver­sion of the pro­gram, in which there's a good chance the woman will hang her head for one final time dur­ing her dream. Per­haps it was for the best, and she led a good life, gain­ing a quick, pain­less death in the end.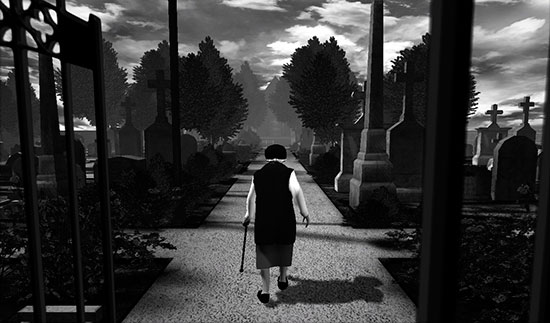 If that all sounds a bit mor­bid, well, it is. That's the beauty of The Grave­yard. Rather than being a game of any tra­di­tional kind, it uses the 3D digital medium to cre­ate a mov­ing tableau with a cer­tain amount of inter­activ­ity, and which man­ages to express a rest­ful and heart­felt emo­tion about death and deal­ing with death. A rather elab­or­ate memento mori, if you will.
Approached with expect­a­tions of a game where there is some­thing to be gained, or even an æsthet­ic­ally over­whelm­ing tour of a grave­yard, this pro­gram will end up dis­ap­point­ing you. How­ever, that would be ignor­ant of the mer­its that are con­tained in the lim­ited setup of The Grave­yard. The com­bin­a­tion of a grainy black-and-white visual exper­i­ence - not unlike old films - with subtle and express­ive sound design and an evoc­at­ive song man­age to make it into a highly styl­ised digital rep­res­ent­a­tion of think­ing about death. And that might just be what Tale of Tales were after: explor­ing the pos­sib­il­it­ies of using audi­ovisual digital media to express some­thing dif­fer­ent than is tra­di­tion­ally done. Com­par­is­ons with all sorts of media forms present them­selves read­ily: short film, vign­ette, paint­ing, post­card, and very dis­tantly, video game. In the end, though, The Grave­yard is a rare example of some­thing new that fuses aspects of many of these.
You'll be able to exper­i­ence the free (non-lethal) ver­sion of The Grave­yard by down­load­ing it from its offi­cial web­site, or from digital dis­trib­ut­ors like GamersGate. Incid­ent­ally, the full ver­sion costs little more than a post­card with envel­ope and stamp, just to put things into per­spect­ive.
If you're inter­ested in read­ing a bit about the devel­op­ment pro­cess of The Grave­yard, includ­ing short inter­views with Gerry de Mol (music), Kris Force (sound design) and Laura Raines Smith (char­ac­ter anim­a­tion), you might want to read the post-mortem on the Tale of Tales blog.
Images cour­tesy of Tale of Tales.